WHAT ARE REAR POCKETS?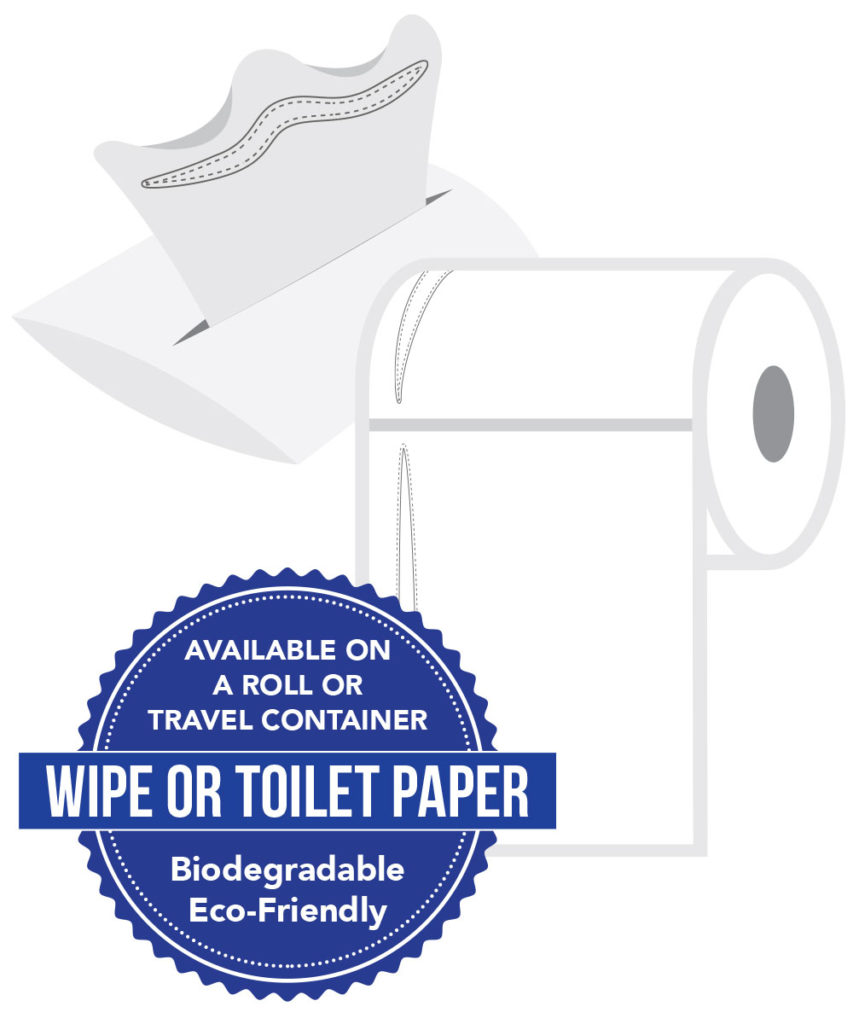 ECO FRIENDLY, BIODEGRADABLE, FLUSHABLE TOILET PAPER OR WIPES HAND POCKETS
Using high quality and extremely soft disposable wipes or toilet paper, we've created a new way to clean your bum after you go…you know. Rear Pockets allow a person to insert his/her hand into a sheet of toilet paper or a pocket wipe prior to and during use for comfort and accuracy.
EASY TO USE
Just tear a Rear Pocket from the roll and place your hand inside the pocket. Then just use and dispose of the Rear Pocket. The more portable pull-up wipe dispenser can be kept in the car or purse and used simply by removing one at a time.
WHO BENEFITS? YOU DO!
Whether teaching children how to take a shower and clean themselves or brush their teeth, it is common to also toilet train them to understand the importance of wiping themselves after peeing or pooping. However there has been a lack of the proper tools for them to accomplish the mission until Rear Pockets. As a result children grow up to pass along the same traditions to their children and on and on it goes. Why someone hasn't understood the failing in the present system is just how people tend to accept things despite the shortcomings. Now we can alter old habits and make cleanliness and hygiene easier and more controllable.
The First major Innovation in Wipes or Toilet Paper in 100 years.
Another problem with conventional sheets of toilet paper or wipes is that after tearing the toilet paper (or wipe) from the roll or dispenser for use, there are often areas of the hand that are not protected by the toilet paper. This is exacerbated by the fact that people often reach around their body when using toilet paper or wipes and thereby can not see any exposed area of the hand.
What is needed is a toilet paper or wipe design that provides complete (or sufficient) coverage of the hand during use. Also a design that facilitates a secure grip on the toilet paper and helps maintain the toilet paper or wipe firmly in/on the hand even when the hand is shaking. A toilet paper or wipe design that accomplishes these requirements would not only be beneficial to people who have difficulty using conventional toilet paper but also to anyone who desires to use a completely clean and effective improvement to their hygiene.
Many times people take certain actions for granted
HOW ABOUT MILLIONS OF OTHERS THAT BENEFIT?
And for certain individuals there is additional difficulty. For some elderly, a person with Parkinson's disease, or other shaking/tremor producing condition, it can be a challenge to maintain a grip on the toilet paper. This is because there is no way to firmly encompass the toilet paper in the hand when the hand is shaking or not firmly in control. This results in difficulty wiping and frequently dropping the toilet paper before it can be used.
Do you know how many people have issues affecting their self care, independent living, tremors, Parkinsons or arthritis??? Well into the many many millions.
There are likely 50 million unreported US children and adults saddled with a variety of hand or physical challenges affecting what would appear to be a simple task.
The following are just some of the statistics available.
In the US alone 4 in 10 have arthritis in hands in US only.
1 in 20 people over 40 have hand tremors
1 in 5 over 65 have hand tremors.
More than 10 million additional people worldwide are living with Parkinson's.
REAR POCKETS IS THE SOLUTION
DON'T WAD YOUR TOILET PAPER!
It's wasteful and affects your accuracy!
Who hasn't fumbled with a piece or pieces of toilet paper when wiping and cleaning your butt? Having control of the sheets of toilet paper are directly related to the level of cleanliness we accomplish. "you cannot clean what you cannot see". It is all about control. You have no control over some crumpled pieces of toilet paper or even most wipes because either or both move around and no one has an idea what exactly they are cleaning because there is no way to see what needs cleaning.
Never has there been more need to keep bacteria away and despite people's attempt at thoroughness, this is an area which demands improvement.

Think about what happens here……after pooping, without any idea of what is left needing to be cleaned, you arbitrarily crumple up tissue or take a wipe and literally "hope" you hit the mark when wiping. You have about the same chance of hitting a 95 MPH fastball with your eyes closed. Being able to control the wipe or tissue provides the first real improvement in actual cleaning poop from your butt. It may not be a comfortable conversation but one that involves almost 100% of our population.
Here we have an environmentally friendly, eco friendly, biodegradable and flushable product that gives the user control and manageability to a wipe or toilet paper while insuring they stay where they should be while safeguarding your hands from poop and providing the best product ever designed for the purpose intended. It's about time!!!!
As seen in

Hygiene is more important NOW than ever before.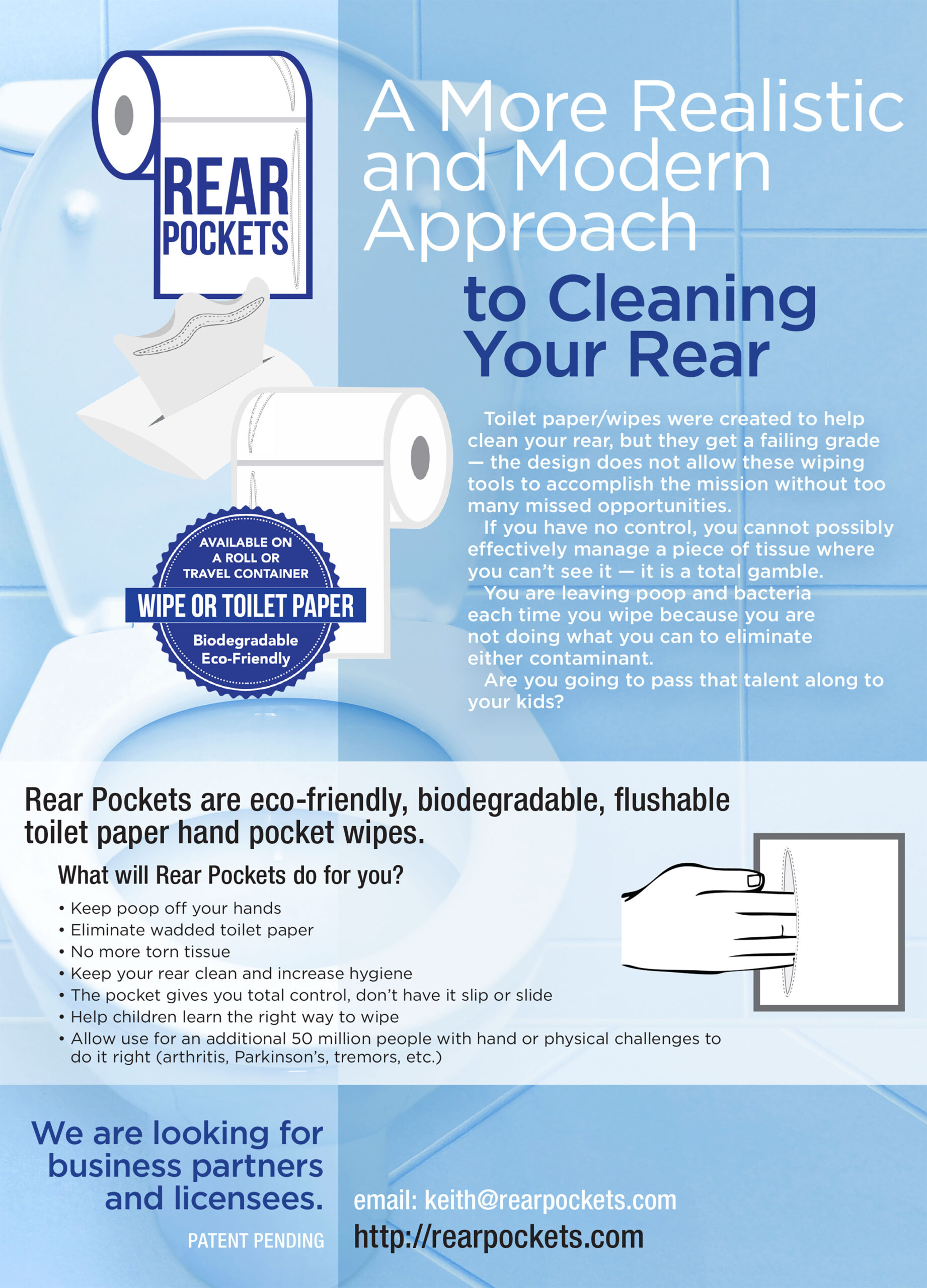 Contact Us
For product information and how to preorder!